[thethe-image-slider name="Slider3″]
This month's selected model favourite is the Bachmann BR Standard class 4MT 2-6-4 tank in lined black livery with early emblem. The model has been chosen by MKMRS member and Exhibition Manager, Terry Silver.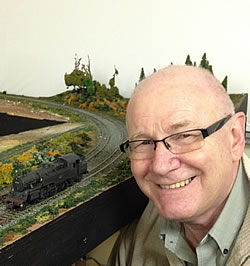 MKMRS MEMBER:
Terry Silver
Terry has chosen this model as he considers the Standard class 4MT to be the nicest looking tank engines that were built. He says they were built for speed and vividly recalls enjoying watching them run in the Midlands, often bunker first, with a rake of BR Mark 1 coaches. His model has been weathered by Grimy Times (see their website: www.grimytimes.co.uk for details) and fitted for DCC sound operation.
The British Railways Standard Class 4 tank was one of the BR standard classes built during the 1950s. They were used primarily on commuter and outer suburban services. 130 of the class of 155 were built at Brighton, 15 (80000–80009, 80054–80058) at Derby Works and 10 (80106–80115) at Doncaster Works between 1951 and 1956. Fifteen that were due to be constructed in 1957 were cancelled due to impending dieselisation; the final five were only completed as they were at an advanced stage of construction when the order came to cancel them.