[thethe-image-slider name="Slider5″]
June's model favourite is a ViTrains class 37 427 'Bont Y Bermo' in early EW&S livery. The model has been chosen by MKMRS member Jamie Bond.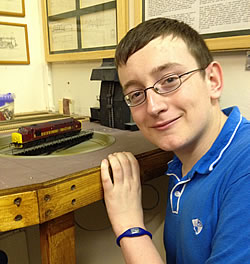 MKMRS MEMBER:
Jamie Bond
Jamie has chosen this model for several reasons. Primarily, this was Jamie's first attempt at weathering a model and he has been pleasantly surprised by the results. The images above show the weathering off well and demonstrate what can be achieved, with a little time and effort, to improve an already well-presented model. Jamie finds that the low gearing in the model allows for excellent running and all this is combined with the relatively low price tag for the ViTrains model.
The British Rail Class 37 is a diesel-electric locomotive. Also known as the English Electric Type 3, the class was ordered as part of the British Rail modernisation plan. On 13 April 1986, locomotive 37 427 was named "Bont Y Bermo" (Welsh for 'Barmouth Bridge') to celebrate the short-lived re-introduction of locomotive-hauled trains to Barmouth Bridge following repairs in 1985-1986. The weight restriction on Barmouth Bridge was lifted once again in 2005 allowing loco-hauled trains to use the bridge until the present day.