[thethe-image-slider name="Slider9″]
August's model favourite is the Hornby Advanced Passenger Train (APT) which many will be familiar with from the 1980s. The model has been chosen by MKMRS member Ian Bartlett.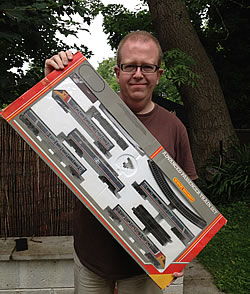 MKMRS MEMBER:
Ian Bartlett
Ian has always been fond of the APT, probably remembering the promise of greater things it offered for rail travel in the 1980s which, at the time, was definitely out of favour with those in power. The model is a good representation of the real thing, although Ian swapped the plain yellow driving trailers that came with the train set for those with a black band around the windscreen which Hornby issued later as part of a train pack.
"I always thought the blackened windscreen version suited the look of the train well, so I wanted them on my model. I was one of the lucky few to travel on the APT in service on a run from Euston to Preston. It was a great train and really exciting – I was only about 13 at the time so was very lucky to be allowed to go; I remember the tilt being quite pronounced, far more so than on today's Pendolinos."
Ian received the model as a Christmas present and enjoyed racing it around his train set track. The model was fitted with an uprated Ringfield motor, so was probably running at around a scale 300mph rather than a more realistic 150! Ian feels that although the model is probably not up to today's standards, it still holds up well and represents an interesting, if somewhat frustrating, period in railway history. Ian's model is complete with the electrical bus bar and pantograph still present on the power car roof; it still runs well and has been fitted with a decoder for DCC operation.