Press and Supporters Day – Monday 12 January, 2015
We were delighted to open our doors and welcome our friends including members of the local press and news organisations, model railway publications, Iain Stewart (MP for Milton Keynes South) and Cllr Derek Eastman (Mayor of Milton Keynes).
As well as showing off our club facilities and layouts, we also gave a short presentation reviewing our history, explaining the benefits of joining a model railway club and outlining the plans for our 2015 Exhibition which takes place on February 14th.
If you were able to come along, thank you for taking the time to join us to find out more about what we do.
The contents of the short presentation given on the day as provided to attendees are available for download here:
Items we are aware of that have been published following up on the day
Milton Keynes Citizen, Wednesday 14 January.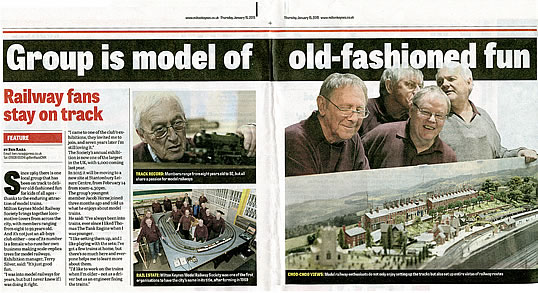 MKFM
MK Web
MREMag.com
Video from MK Web

If you have any queries about the day or MKMRS in general, please contact our Webmaster, Ian Bartlett (ian.bartlett@mkmrs.org.uk)